Sell Your House Without A Realtor
No Repairs, No Middlemen, No Deadlines. 100% FREE!
We Buy Houses in Cumberland in any condition. No realtors, no middlemen (agents, banks, traditional cash buyers, inspectors, contractors, cleaning companies, etc.), no fees, no commissions, no repairs, and no cleaning required. Fill out the form below to get your guaranteed, no-obligation, sell my house fast online quote all cash offer started!
We Buy Houses in Cumberland, MD
We Buy Houses in Cumberland, MD, no matter what the condition it is in. If you need to sell your house fast for cash in Cumberland, we can offer you cash for your home without having to make any repairs. So, sell when you are ready and get your cash at closing. Give us a shot! We will not let you down! No commission, no fees, and no hassle!
We are local cash home buyers in Cumberland, Maryland, ready to buy your house in cash. We are fast and reliable, and we care about providing you with the most comprehensive explanation of what we do, how we do it, and why we are your best choice to "sell my home quickly."
Call us at (301) 302-1593 or ,if you have any questions, don't hesitate to contact us. Fill out any of our forms and see for yourself how easy it is to sell your house in Cumberland, Maryland.
Why Hassle with Agents & Fees?
Or Conventional Cash Buyers?
We are local Cumberland, MD, cash home buyers. Get a guaranteed offer from us before you commit to a 6-month contract with an agent or a conventional "we buy houses fast" company. We are fast, free, comprehensive, and innovative. We will not waste your time with traditional "lowball offers." Everything is 100% FREE with no obligation to accept. You have nothing to lose!
How Do I Sell My House in Cumberland, MD?
We buy houses in Cumberland, MD, directly from you, the seller. This means there is no "middlemen" (agents, banks, inspectors, contractors, conventional cash buyers, etc.). This drastically eliminates traditional hassles and hurdles involved with selling a house the conventional way as well as speeds the process significantly and puts more cash in your pocket!


 Visit The How It Works Page
Learn how we formulate your offer and also learn how our beat any all cash offer guarantee works.


 Learn About Our Company
Learn why our company is the best company to sell your home fast with.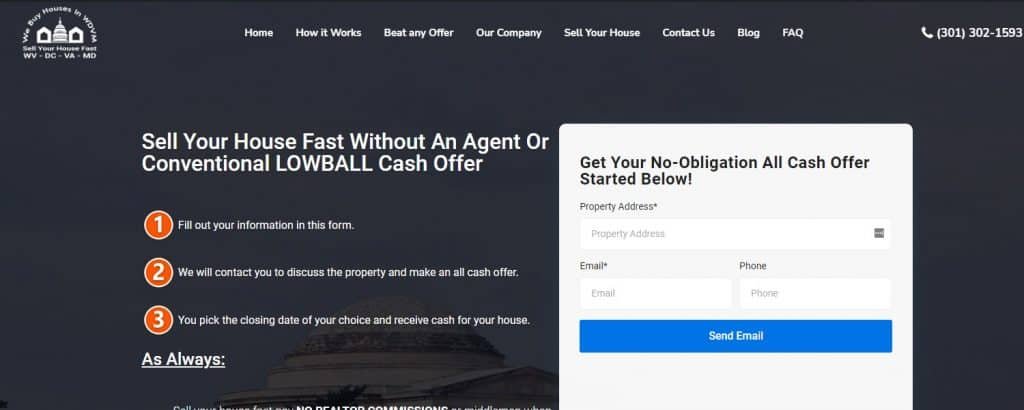 Request Your All-Cash Offer!
After you understand why our cash for your house process is the best way to sell a house fast, fill in our from and receive your all cash offer.
We Guarantee the Highest Cash Offer for Your House
Selling your house to investors fast for cash is often the easiest way to get out of an unwanted situation. We buy houses in Cumberland and throughout Allegany County as well as Keyser, WV. We can help by paying you top dollar for your Cumberland house!
why hassle with agents & fees? or conventional cash buyers?
Selling a house is oftentimes stressful. Why not just step away from it and let us handle it? By working one-on-one with a professional homebuyer, you'll be able to avoid many of the conventional hassles associated with selling a house. Our job is to make things as simple as possible for you. Best of all, our services are free from commissions, fees, banks, deadlines, and negotiation tactics that agents are trained to employ. You simply accept or decline our offer and close on the date of your choice; it's that easy! None of the traditional dog-and-pony show hassles. We also back our offers with a beat any offer guarantee so that you can rest assured that you are being paid the most cash for your house based on all the facts supporting the true market value.
Astronomy binoculars is a great alternative
Common Challenges We Have Helped Sellers Overcome
We can help if you have lost a job and your house has become a burden to bear.
We can help if you are tired of being a landlord or have COVID-19 eviction moratorium problems.
We can help if you're going through divorce.
We can help if there are just too many repairs to make on the house.
We can help provide a solution to foreclosure.
We can help provide a solution for tax or lien problems.
Why Hassle with Agents & Fees?
We are pro home buyers in Cumberland with our own money, so we do not need bank approvals and formal inspections or any other traditional middlemen all cash offer methods employ to buy houses. This ensures a fast and smooth transaction based on your schedule. We go the extra mile to present you with the most comprehensive, detailed, and easy-to-understand explanation available online as to how our offers are based on market value, repair cost, and current sales of houses in Cumberland. This is total transparency so that you know, see, and understand everything from the offer to the closing day. We will walk with you through the entire process and explain where all the costs are coming from, so that you can make an educated decision, having confidence that you chose the best option for your needs and got the most cash possible for your house.
"We Buy Houses in WDVM" is a local homebuying company in Maryland. We are not a nationwide franchise, and we are not amateurs either. Rest assured that we are serious about providing you with an offer that works best for your specific needs and pays you the most cash guaranteed!
We offer cash for houses throughout the entire Cumberland area. If you have a house for sale in Frostburg, MD, or in cities like Westernport, MD, and Keyser, WV, please do not hesitate to get in touch with us. We make it very easy to sell your house fast.
Providing the Highest Offer in a Market Overrun with Investors Trying to Lowball Sellers Is Our First Priority!
We guarantee the highest offer possible! Visit our beat any offer page and see for yourself how we do this. Plus, check out Linda's experience selling her Falling Waters, WV, house for cash. See how she received multiple offers before she found our company and received significantly more cash than the other nationwide and local companies that buy homes for cash were willing to pay.
Why Hassle with Agents & Fees?
Charis Real Estate Solutions, LLC/"We Buy Houses in WDVM" is the most innovative, hassle free, fast cash homebuyers, providing you with the most transparent, comprehensive utility/value-based definition of who we are, what we do, and how we do it better than any of the other companies that buy your house for cash.
Visit our Google Business profile, read our sell your house for cash reviews. See why our company has an excellent rating on Google Reviews. Also, check out our beat any offer page to see why this company presents you with more than just opinions of our satisfied customers. See why "We Buy Houses" facts matter more than cash home buyers opinions.
 Also Visit our suggested pages below and see for yourself why we are your best option to sell your house for cash.
We Can Buy Your House No Matter Your Reasons for Selling
Avoid "lowball" offers, agent fees, closing costs, walkthroughs, inspections, contingencies, uncertainties, inconvenient open houses, excessive paperwork, deadlines, banks, costly repairs, contractors and middlemen. We buy homes for cash all over WV, DC, VA, & MD. Regardless of your reasons for selling: