Sell Your House Without A Realtor
No Rapairs, No Middlemen, No Deadlines. 100% FREE!
We Buy Houses in Gaithersburg, MD
Sell Your House for Cash

 in Gaithersburg, MD, Without Realtors, 
100% FREE!
 

Find Out How Our Cash for Houses Process Works!
We buy houses fast in Gaithersburg, Maryland, for cash in any condition! We are house buyers offering cash for your house in Gaithersburg without involving agents or conventional lowball buying methods in the transaction. This means no agent commissions, no repairs, no closing costs, no agent fees, and no conventional middlemen buying methods are involved! 
Local fast cash home buyers in Gaithersburg, Maryland, ready to offer cash for your house. We are fast, comprehensive, and we care about offering you innovative solutions that provide utility and value to the process of selling your house quickly. Selling your house has never been so efficient and stress-free. Get to know us and see why we are the most effective and innovative fast cash home buyers in Maryland.
Why Hassle with Agents & Fees?
Or Conventional Cash Buyers?
Get cash for your house in Gaithersburg, MD fast! We eliminate many of the hassles that come with listing your property through agents or selling to conventional companies that buy your house for cash. Request an offer from us before you commit to a 6-month contract with an agent or a lowball offer with a "we buy houses fast" company. We are innovative, fast, and guarantee you the most cash for your house!
"Providing Guaranteed offers in an arena overcrowded with investors looking to haggle the lowest possible offer is of the utmost importance to us."


Cash for Your House in Gaithersburg, MD
Selling your house quickly for cash can be the most effective way to get out of a difficult situation or simply if all you are looking for is the best way to sell your home fast for any reason. We buy houses in Gaithersburg (and throughout Montgomery County) in cash. Our offers are flexible and can close on your schedule, regardless if you're looking into selling your house quickly or you need extra time to get it done. We always work hard to close on your preferred timing and pay you the most cash possible for your property. We guarantee it!
Our offers are based on market value. For the most comprehensive explanation available on the web explaining how our offers are formulated, check out our how it works page. Even if you have a problem property or you just need to sell your home quickly, we can help. We specialize in buying houses under any conditions.
Home Buyers Near Me in Gaithersburg, MD
We are local house flipper buyers, and a house in poor condition does not affect our ability to fully renovate and reimagine the property; in fact, we are diligent in our efforts to restore all the properties we buy into quality renovations. We work hard to add beauty and property value to the communities we flip houses in. No matter what condition your house is in, "We Buy Houses in WDVM" would love to pay cash for your house.
No matter what situation or condition, even if an agent couldn't sell it, or you have had a prior all-cash offer, let us beat it! We want to buy your house. Just give us a call at (301) 302-1593 and see for yourself how easy it is to sell your house in the exact all-cash amount on the exact closing date that you agree to! No surprises, no fees, no cleaning, and NO HASSELS!
How Do I Sell My House Quickly in Gaithersburg, MD?
By paying cash for your house in Gaithersburg, Maryland, we can significantly speed up the closing process and cut out all the complications associated with middlemen (agents, banks, inspectors, contractors, conventional cash buyers, etc.). This allows us to put that extra money and time traditionally spent on middlemen into your pocket, efficiently streamlining the closing date with much less hassle for you.


Visit The How It Works Page
Learn how we formulate your offer and also learn how our beat any all cash offer guarantee works.


 Learn About Our Company
Learn why our company is the best company to sell your home fast with.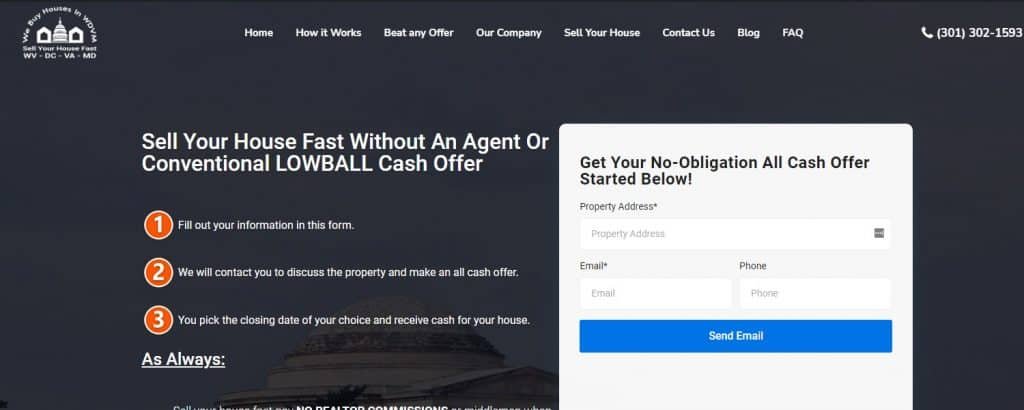 Request Your All-Cash Offer!
After you understand why our cash for your house process is the best way to sell a house fast, fill in our from and receive your all cash offer.
Sell Your Gaithersburg House to Us and Eliminate the Hassel
Selling a house can add additional stress to your life. Why not just step away from it and let us handle it? We are trained and experienced with many different exit strategies and seller dilemmas. Step back, relax, and let the experts take it on while you just wait for your check!
Astronomy binoculars is a great alternative
Common Seller Dilemmas We Have Experience With
House is in such bad shape that agents cannot sell it
Simply don't want to hassle with agents and conventional lowball cash home buyers
Undesirable location
Bad tenants and COVID-19 eviction moratoriums
Mold, fire, and water damage
Just want fast cash for a house
A Faster, Better, and Easier Way to Sell Your Gaithersburg, MD, House!
Offering cash for houses in Montgomery County enables us to get through the entire process much faster than conventional methods. If you have a house for sale in Gaithersburg (or throughout Montgomery County and surrounding areas, like Poolesville, MD, Germantown, MD, Montgomery Village, MD and Sliver Spring, MD. Also Rockville, MD and Bethesda, MD, Brookeville, MD, Olney, MD, Dickerson, MD, Clarksburg, MD, Damascus, MD and others), please do not hesitate to get in touch with us. We make it very easy to sell your house in Maryland fast.
Reasons Why It's the Perfect Time to Sell Your House Today!
Consider these Local Facts
Montgomery County has one of the highest home values in the nation, currently sitting at "top of market" prices that we have not seen in the previous 14 years (Circ.2007)

One of the lowest crime rates in the nation

Clarksburg, Damascus, and Bethesda have some of the nation's top-ranked schools

Best local amenities in the nation
The Best Way to Sell Your House in Maryland Fast
Charis Real Estate Solutions, LLC/"We Buy Houses in WDVM" is the most innovative, hassle free, fast cash homebuyers, providing you with the most transparent, comprehensive utility/value-based definition of who we are, what we do, and how we do it better than any of the other companies that buy your house for cash.
Visit our Google Business profile, read our sell your house for cash reviews. See why our company has an excellent rating on Google Reviews. Also, check out our Beat Any Offer page to see why this company presents you with more than just opinions of our satisfied customers. See why "We Buy Houses" facts matter more than cash home buyers opinions.
 Also Visit our suggested pages below and see for yourself why we are your best option to sell your house for cash.
We Can Buy Your House No Matter Your Reasons for Selling
Avoid "lowball" offers, agent fees, closing costs, walkthroughs, inspections, contingencies, uncertainties, inconvenient open houses, excessive paperwork, deadlines, banks, costly repairs, contractors and middlemen. We buy homes for cash all over WV, DC, VA, & MD. Regardless of your reasons for selling: